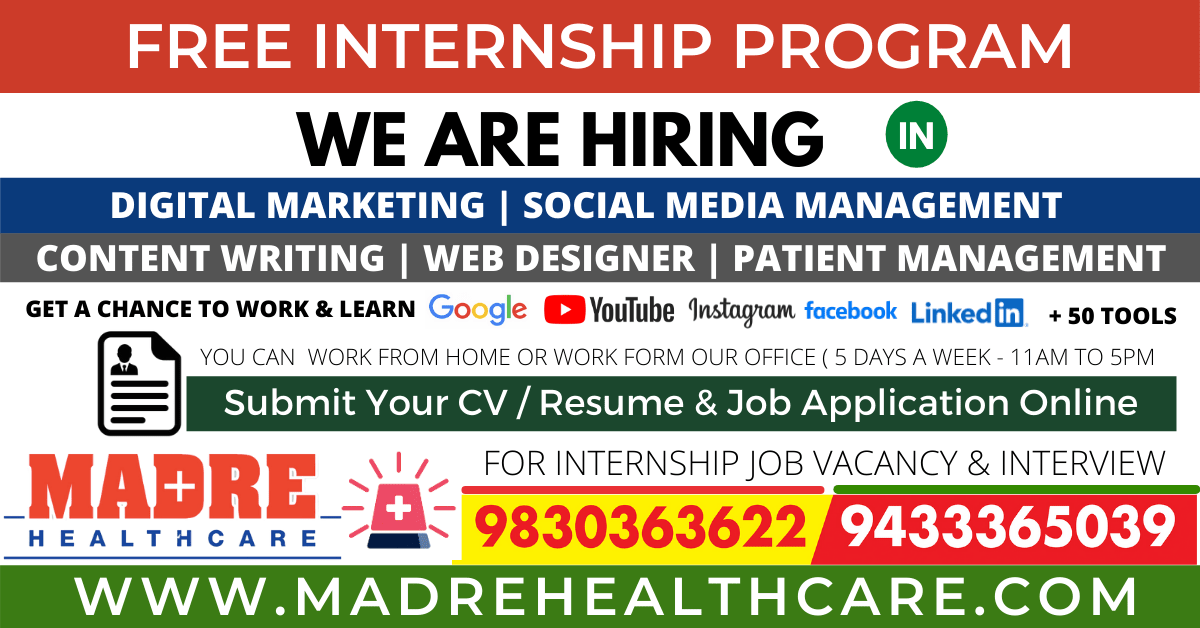 We are hiring interns for our Administrative Assistant jobs, Digital Marketing, Social Media Management, Content Writing, Content Marketing, and Copyediting, Patient Management, International  Medical Tourism Coordinator,  Sales, and Marketing positions.
We are all well-known about current job scenarios after COVID. More than 12+ Core Indians lost their job already due to Lockdown and bad economic conditions. We believe MADRE Healthcare that if we support each other in this bad situation, then we can all fight these odds.
We are committed to social responsibilities and hence take an Internship Drive to help Freshers and Management students who those already completed their studies or Still continuing their studies can learn new trendy career prospects oriented job functions, such as Digital Marketing, SEO, Social Media Marketing, Content Writing and Editing, International Patient management, Sales and Marketing in Healthcare sectors will help them for future job opportunities and also get work experience for better placement in coming days.
Why You Should Join:
We are looking for 10 Serious Candidates in each section to train and guide for future employment scope. If you are regular and serious about your performance, then you can expect the following outcomes:
1. Internship Certificate from MADRE Healthcare Private Limited
2. 3Months Work Experience Certificate and appreciation Letter
3. FREE Digital Marketing Training
4. FREE Social media Training
5. FREE Content Writing and Content Marketing Training
6. Future Job Opportunities with MADRE Healthcare Private Limited and Full-time job offers for deserving candidates.
7. Learning Scope to Work in Healthcare and Medical Service Industry.
8. Learning Scope to work with International Patients.
9. Become Our Brand Ambassador and Earn Money Online.
10. Learning Scope to work with more than 50+ Free and Paid Tools
If you are interested, You can fill-up the form and apply for the Internship program.
Eligibility Criteria:
12th pass / Graduates / Masters in Any stream
Work Nature:
Both Work from Home and Work from Office with a Team option available
Salary/ Stipend:
You will get Rs.1000 for travel expenses and get full-on job training worth 65K+, also a work experience certificate and internship appreciation letter.
Job Timing:
You have to involve seriously with an assigned project. Weekly 40 hours from Monday to Friday. and the timing will be from 11 am to 7 pm. You are not serious about your career and assignment, Please don't waste time.
Office Location:
MADRE Healthcare Private Limited – 4/4, Seth Bagan Road, Dumdum, Swapnonir Apartment, Ground Floor, Near Dumdum Seth Bagan Shani Mandir, Kolkata, West Bengal. Pin Code – 700030.
Frequently Asked Questions ( FAQ ) from Interns
Mostly all interns in Digital Marketing, Social Media Marketing, Sales and Marketing, Content Writing enquire about the following questions. We hope this faq will help all of you to know the job and future scope.
What are your responsibilities as an intern?
You will be assigned for Digital Marketing promotions as per your skill and choices.
Is there I will get any certification after completion of my internship program here?
Yes, You will get a certificate and recognition after completing your internship program successfully.
Is that Internship certificate VALID globally?
Yes, MADRE Healthcare, a Govt Registered and recognized private Limited organization in India. Operating Since 2019. We are the leading Medical Tourism Company in Kolkata, India. And The Assigned 3 Months project will carry a great value for your upcoming career surely. Our internship program will be guided by a senior digital marketing team who will support you during this internship period to learn &  implement SEO, Social Media Marketing, Content Writing, Content Marketing, Viral Marketing, Healthcare Service Marketing, Branding, and Many more Strategies.
Can I see the Internship Certificate Sample?
Yes, Sure. Please check the internship Certificate Sample below.