How successful is knee replacement surgery?? A common question for each patient. And here we are going to discuss this topic. So, read this article till the end.
Nobody likes surgery and pain, but want to get an easy to move life. If the doctor recommends them for surgery, they want to know the success rate, and ensured the outcome.
If you ask about the success rate of knee replacement surgery, then I would say, this is the most successful procedure above all medicine. It gives people a quality life, who is suffering from severe knee joint pain, arthritis or osteoarthritis pain. Total replacement surgery gives a chronic pain-free life, with normal physical activities.
Healthline talk about the American Academy of the orthopedic surgeon, they observed that 90percent of the patients, with total knee replacement surgery, have less pain than only medications.
After surgery patient can perform their day to day activities, and live an active lifestyle. It is reported that patient with severe joint pain, after replacement surgery, they used to play golf and walk regularly.
Medical terminology of total knee replacement surgery is total knee Arthroplasty. This actual mechanical implantation of the new knee, in the place of the fractured knee.
What is the success rate of knee replacement surgery
According to the statistical report, 95% of replacement surgery stay for more than 8 years. And 80% surgery sustain for a maximum of 18 years. Endurance is the main cause of the popularity of knee replacement surgery.
So, younger people if suffering from severe knee joint pain, or chronic arthritis pain, total replacement surgery is doctor's first preference. As the stability and longevity of the implanted knee are very high.
Most of the people, who undergo knee replacement surgery are belongs to 50-80 age group. The average age is 70-75.
And the male-female ratio is 40:60. That means 60% of recipients are women.
Complications of surgery procedure
In the knee replacement surgery, the complication is very rare likely 2-4%. That may include:
Stiffness of the knee joint

Infection in the wound

Unexpected bleeding into the joint area.

Nerve, ligament or artery damage at the area of the wound

DVT or deep vein thrombosis, or blood clot

Instability of the newly implanted joint, and do further surgery

Constant pain in the surgery area.

Anesthesia adverse reaction (very rare, <1%)
According to the American Academy of the orthopedic surgeon, serious complications like an infection in the would take place less than 2% of the patient. So, Possibility of Deep vein thrombosis or blood clot can be avoided with the help of blood thinner or some anti-coagulating injections. That can reduce the risk of pulmonary embolism.
Pulmonary embolism is the worst-case scenario of knee replacement surgery. And the possibility is very low if surgery is done by an experienced and competent doctor.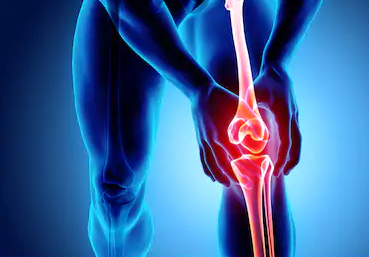 Case study report
According to the case study report, after knee replacement surgery only 1.2% patient gets hospitalized for the pulmonary embolism and blood clot problem. Male above the age of 70 has a high risk of blood clot problems.
Risk of Osteolysis, when metal or plastic fragments release from the implanted knee into the body and cause inflammation. This is also a very rare problem. In this case, the patient suffering from pain after the replacement process, and require revision surgery, due to failure of implantation. Less than 10 % of the patient require revision surgery within 10 years.
It is very true that your implanted knee won't last forever, because the artificial knee is made of plastic and metal, and they wear out over time. So that doctors often recommend you to loose excess weight and avoid high impact exercise. Because it will create pressure on the mechanically implanted knee.
In very rare cases Implanted knee become loose, this is happening after a few days of surgery, at the time of rehabilitation program. This is due to the malfunction of the implanted device. So you should choose good quality material in replacement surgery to avoid device issue.
Stiffness after surgery is a common problem for all. To heal the stiffness and pain, postoperative physiotherapy procedure is very important.
Arthrofibrosis is a very rare case, Approximately 1% revision surgery requires for Arthrofibrosis. This is a condition where scar tissue forms, and interrupt the motion of the newly implanted joint.
Positive outcomes after replacement surgery
There are several outcomes after successful knee replacement surgery. The major benefits of successful surgery are, You can lead a flexible life, without chronic pain and obstacle. Your joint flexibility will increase. You can do your regular work without pain.
I can say that a successful replacement surgery can give you a new life, full of possibilities, which you have lost after severe knee problems. They resume their regular exercise, with their independence. So, the majority of the people satisfied with their surgery, without serious complication
Last but not the least if Your surgery is performed by a skilled and competent orthopedic surgeon, he will take required precaution to avoid severe complications. So don't worry about that
Here we discuss the success rate, risk, and positive outcomes of knee replacement surgery, any complications, case study report. Which can be beneficial for both national and international patients. As we believe everybody deserves the best treatment and good health. The main objective of our  Madre health team is to guide in the right direction. 
We always come up with the new health-related blog, to enrich our website. So if you want to know more, keep in touch with us.