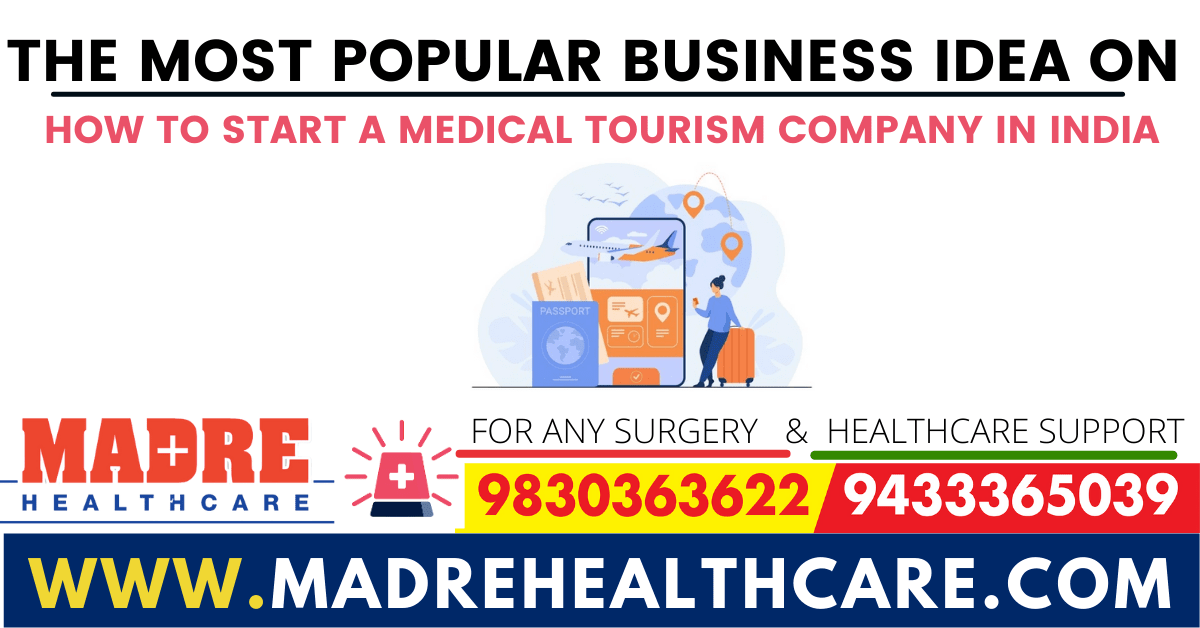 Medical tourism is estimated to be a billion-dollar industry; India is a popular destination for its affordable but quality health care, state-of-the-art hospitals, and language flexibility. Hence, as per recent Google search Result Score, Many peoples are searching terms likes, how to Start a Medical Tourism Company in India" to start a business in Health Tourism or Medical tourism to help Global patients. It is a sector that does not require any fancy degree, but at the same time, can be highly profitable. However, one must keep a few points in mind before floating a company in medical tourism.
To Start a Medical Tourism Company in India, You must:
1. Research well
A little extra study never harms. Clients will be on the lookout for someone who knows their job well. Make it a point to know about medical treatments, market competition, centers that provide treatment, and nursing homes issuing medical care. Having a thorough knowledge of the basics of the medical tourism industry will propel you beyond your competitors.
2. Know your market
India is a popular destination for knee replacements, eye, dental, cosmetic, and open heart surgeries. The surgeries that cost $80000 to $150000 in Britain and the US cost six to seven times less in India. Also, your agency must keep such statistics in mind before proceeding with providing treatment options to your customers.
3. Be money-smart
Your business will flourish when you minimize the amount you spend. You can start your business with an essential internet and telephone connection. Try not to invest in an expensive office space at the very beginning. You can use the money saved for gathering more knowledge about medical tourism or health tourism, advertising, making valuable connections with certified hospitals, and acquiring reasonable partners. However, it is crucial to know how to minimize costs thoughtfully and not cut down on essential investments.
4. Build a trustworthy website
Customers seeking medical care will be on the lookout for a website that is user-friendly. Your website must have all information regarding your company with easy access, and all statistics provided must be transparent. Try to have a creative and sophisticated design for your page that will act as a representative of the kind of services you shall provide. Most importantly, having accredited logos from well-known companies and hospitals will be critical in attracting valuable customers.
5. Provide proper hospitality
People coming from abroad will depend on you to guide them throughout their stay in your country. Recommend appropriate hotels to stay in, cafes, and restaurants. In case your client is non-English speaking, assign certified translators to them so that they have no trouble getting along. Also, remember that pleasing your clients and creating a lasting impression on them will help your business expand.
6. Know your competitors
Further, India has become a highly popular destination for medical travel because of its world-class medical treatments available at extremely standard rates. Clients also receive fast surgeries and well-equipped recuperating centers. To compete with the rest of the medical tourism companies in the market, you must provide facilities that are at par with the rest.
Medical tourism is a sphere with a market value of $26 billion across the globe. It is a fast emerging business, and the above few tricks of the trade should be enough to float your business. And once it does, you can be sure that it will propel you towards success.
How to Start a Medical Tourism Company in India without Investment or Minimum Investment?
FAQ- Frequently Asked Questions about How to Start a Medical Tourism Company in India
Question:  What's The basic Difference between medical and wellness tourism Vs Healthcare Tourism Vs Hospital Tourism vs health Tourism
Answer:
Top 10 Medical Tourism Facilitator in India
top medical tourism companies in the world
how to start a medical tourism business in Bangladesh?